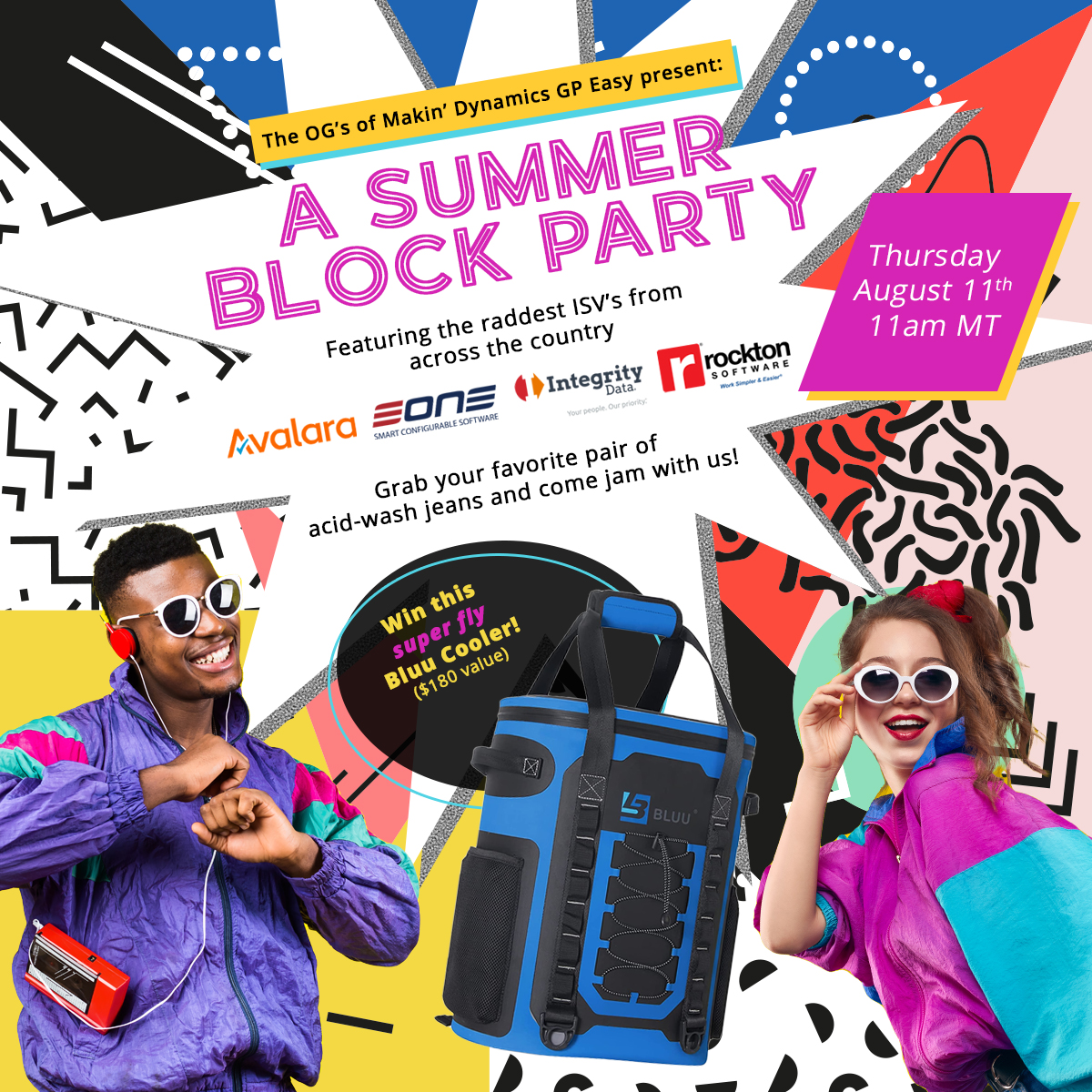 The OG's of Makin' Dynamics GP Easy present:
A Summer Block Party
Featuring the raddest ISV's from across the country

Looking for some super fresh tips and tricks?
When
Thursday, August 11th at 12:00pm CST/1:00pm EST, 10:00 am PT/11:00 am MT
Where
Online

Headliners
Tax Compliance. Automated. Tax compliance is one of those necessary tasks that every business is faced with. But is the energy you spend figuring out the ever-changing tax rules, regulations, and rates costing you precious time, money – and potentially increasing your audit risk? Let Avalara take on the heavy lifting of calculating rates, preparing returns, managing exemption certificates, and more right from your Dynamics GP.
SmartLists on Steroids. As a fan of Dynamics GP, you already know how much power SmartList puts in the hands of the user. But did you know that there are options beyond the SmartList? Learn about the eOne's powerful reporting suite for Dynamics GP—all built for end users & included with Popdock.
Do your HR and Payroll life sometimes feel like a roller coaster? Do HR and payroll tasks keep you awake at night? We at Integrity Data would like to share some tips to make your HR and Payroll ride smoother and get your valuable time back.
Grab your floaties and your GP users and join us for a quick demo of SmartFill!
If you haven't seen this epic product in action or if you have, but haven't seen its fun new features this is the party for you!


Grab your acid-wash jeans, your boombox, (don't forget your accountants) and get amped!
We'll bring the tips and supply this super gnarly BLUU Backpack Cooler – all participants will be entered in the drawing, but you must be present to win! (official rules)


Are you stoked?
Register Now!